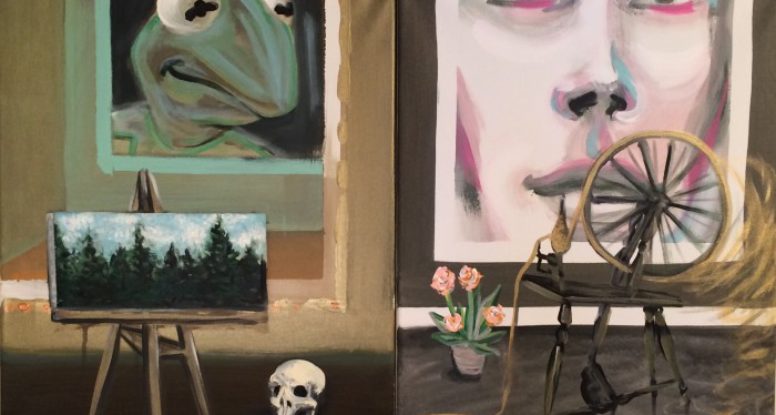 Artist Spotlight: Jai Tanninen
Western Canada Fashion Week was proud to present the work of Jai Tanninen, whose art lined the walls of the theatre this past season. Tanninen's work is currently on display in the city and we're pleased to share more about his background and passion for art:
---
Jai Tanninen has always loved art.
As a child growing up on Lake Simcoe in Barrie, Ontario, he never wanted to be a fireman or a doctor. Instead, he always knew he wanted to be an artist. He stuck with it and continued to draw and develop his style before attending Georgian College for his BFA. When he moved to Edmonton after living in Vancouver for a couple of years after graduating, he decided to really give his art career a push, launching his website (jaitanninen.com) and spending more time in the studio.
Tanninen began to notice cycles in his work, particularly his frequent recycling of images and themes. "[Painting and drawing] used to be the only way that humans could reproduce imagery," he says, "but now with the internet age we come across millions of images a day. I think a lot about what place painting and drawing have in that kind of world."
It's an unanswerable question he thinks, but one that deserves continual exploration. He views creating art as a weird thing. "It's a consumer product but also something really personal. People buy it but they also see it for free and it exists in this weird undefined space which is really fun to play around in."
Tanninen's work explores identity and how we define ourselves in an image-driven world. Many of his paintings include recurring imagery of internet memes, 80's children's cartoons or other items from pop culture; it's a slightly autobiographical touch to his work. He explains that the people in his paintings are a representative of the viewer or himself, or are an element that draws him into a painting that he's making. Many of his works feature a subject viewing artwork in a room, a theme that furthers his exploration of images, identity and viewership that also allows him to experiment with multiple styles. "It's another way to do as many things as possible in a small space, so I'm not confined to one genre…I can get away with doing a landscape and an abstract."
While his paintings fall into a theme and pattern each cycle, his style is difficult to pin down and he likes it that way. "I want to try as much as possible and experience and create as much work as I can," Tanninen says. "One of the most fun things to do in the studio is when I come home from my 9 to 5 job and I have this idea in my mind and it's something new…it's exciting for me so I do try to do as many different things as possible. I've been told by other people that it should be better to focus on one thing but the one thing that I'm focusing on is variety in a way. I just can't really focus on one thing in any way."
Some of Tanninen's work is currently on display at The Chvrch of John at 10260 – 103 Street. The opening reception is on April 21, 2016 and his work will be on display until May 11, 2016.