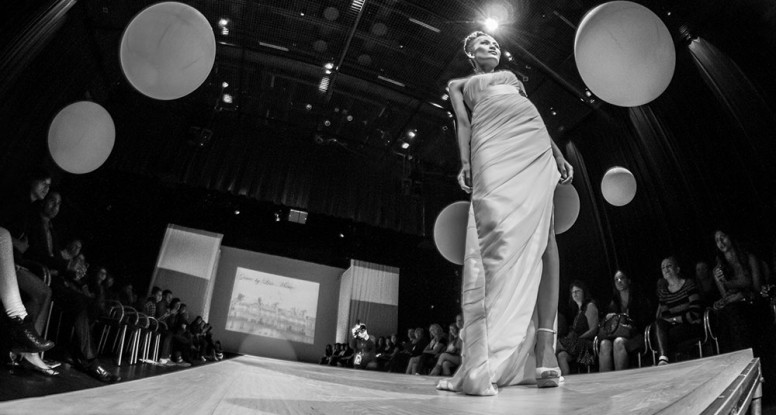 WCFW Day 6 | September 24, 2013
Top Photo: Grace by Lisa Marie | Photo: Kelly Rosborough
On Tuesday night fashion enthusiasts from all ends of Edmonton came to feast their pretty little eyes on the Spring/Summer 2014 collections at Western Canada Fashion Week. The night kicked off with the soulful and joyous sounds of the young and seriously talented Sean Sonego. There is a reason WCFW has brought him back for his third year in a row; his voice is so effortless and truly unique.
Following Sonego's soulful beats was the starter of the show, Patience Soyege. After winning the Emerging Designer Competition in 2011, Soyege has shown every season at WCFW. This season, her collection kicked off with three minimalistic dresses with beautiful synched detailing. Soyege was successfully able to showcase how immaculate and precise her tailoring and attention to detail is. Her collection maintained a consistent theme of using creams & navy's while accenting a few pieces with splashes of tropical print.
An unexpected but very appreciated collection was a first timer at fashion week, Sundry by Jana Champagne. Her sexy take on the classic one-piece using falls favorite colors (burgundy, cream and grey) made me excited for the (eventual) upcoming summer season. As quickly as I became obsessed with her bombshell bathing suits, out strutted her lightweight transformable pieces perfect for any summer vacation. The construction of the garments was so flawless and each item flowed, fit and flared exactly where it should have. I'm so glad that I was able to watch her first showing, and I hope it's not her last.
If you're a confident woman who just happens to be engaged, then Gabrielle Rodrigues is the wedding designer for you. Her eclectic line of all-lace-no-slip wedding gowns was made specifically for the woman who has the ability to feel sexy in just her skin.  Rodrigues, a newcomer to WCFW, choose a wide variety of white lace fabrics, as well as some fur. The short hemlines and see-through fabrics created a unique and non-traditional appeal that deemed perfect for the no-limits no-boundaries type of gal.
Up next was a breath of fresh spring air – Grace by Lisa-Marie. Her soft pastel color palette with pretty bubble hemlines made even the most tomboyish personalities grin. Her collection was light, fresh and feminine using polka dots, soft bows, and the prettiest lace and embroidered fabrics I ever did see. Nothing beat the mermaid eyelet dress in a beautiful tiffany blue color that moved like the ocean was at her feet. Her entire collection was absolutely stunning, and with her excellently executed craftsmanship to boot, I am very excited to see what's next for Lisa-Marie.
If I had to guess who the crowd favorite was of the night, my money would bet on Emogene Couture. Designed by Michelle Roberts whose collection stemmed its inspiration from the 1960s. Her silhouettes were so eloquent and effortless, with a cohesive theme from start to finish. My favorite piece from the entire night was an immaculate emerald, a-line stunner that immediately had (and held) my attention. The rest of her collection didn't fall short of absolutely spectacular. With vintage floral prints and the perfect amount of tulle, Roberts deemed herself  (in my eyes) as the next up and coming designer.
Closing the night with a whopping 32 looks was bridal designer Ephram dei Medici. The designers' whimsical take on classic wedding dresses had Goth princesses in awe as black wedding gowns sashayed down the runway. There were no limits on Medici's imagination as every combo, style, and color came out from behind the designer's curtain. Muffs and boleros even made their appearance into the fashion scene again. With so many looks it was hard to pick a favorite, but I was completely obsessed with the layers upon layers of a white embroidered gown. If you're a bride to be that enjoys options, Medici is the designer for you.