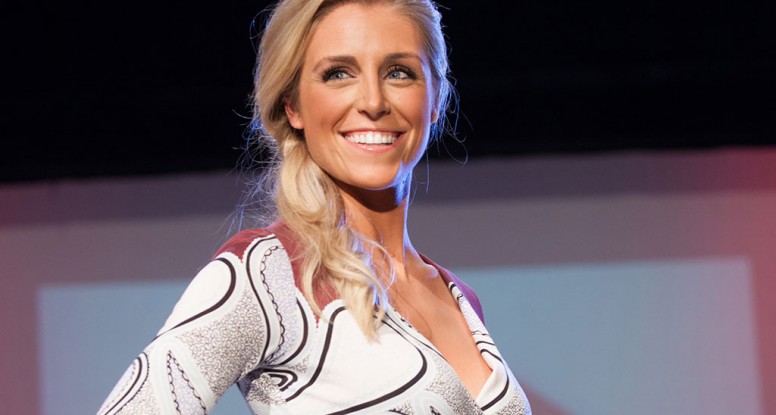 WCFW Day 3 | September 21, 2013
Top Photo: Celebrity Showcase | Photo: Donna Lewis
Day three of WCFW featured our celebrity showcase as well as tons of other design talent. Tonight was a collaboration of designs from children's wear to sophisticated adult fashions mixed with a little bit of rock and roll and sexy swimwear. We saw a great presentation of the diversity that Western Canada fashion has to offer as well as the amazing style coming from all of our designers and boutiques.
We started off the show with some adorable children's wear from Alligator Pie and Moon Star Designs. We all had the privilege of watching miniature models strut their stuff down the runway for Alligator Pie wearing designs from Jean Paul Gaultier, Little Marc Jacobs and Burberry. Moon Star Designs showed us some fun beachwear inspired outfits with great prints and colours that kids will love.
The celebrity showcase brought great energy into the room when our local television, radio, and journalism stars walked the runway wearing fashions from Derks Menswear and Simons. The gentlemen were looking very dapper in a combination of modern suit jackets in a variety of colours and prints as well as more casual pullover sweaters with classic denim pants. Our celebrity ladies looked fabulous in a variety of cocktail dresses with sophisticated prints and lots of leather detailing.
We saw great fashion for women from Cherry Chic designs whose collection was mostly made up of a casual day dress with a flare skirt and wrap dresses in pink, black, and brown. Wastra followed with gorgeous Indian inspired fashion. The beautifully draped dresses were presented along with Patty Tobin Jewelry whose beaded and shimmering pieces complimented the clothing perfectly.
124th Street showcased fashion for everyone from TK Clothing, One Tooth Activewear, and Redemption Boutique. TK Clothing presented classic ladies wear looks with pops of colour and sophisticated prints. One Tooth Activewear showed off stylish workout wear suitable for any activity and Redemption Boutique gave us rock and roll clothing with lots of leather and super fitted dresses with plenty of rock and roll flare.
Closing the evening was Offshore Sun & Swimwear with some amazing beach fashion. Cut out one-piece suits and bikinis in a variety of colours and prints were accessorized with matching wraps, sunhats, and espadrilles.