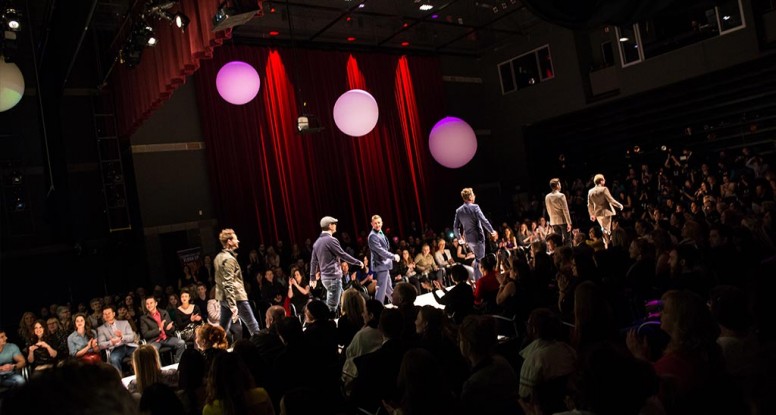 WCFW Celebrity Showcase | March 29, 2014
Top Photo: Celebrity Showcase | Photo: Vicky Lau
Saturday brought out a lovely diverse crowd in response to the great mix of shows on the runway! While the core shows of the evening were the celebrity showcases, the evening also featured childrens' wear, swimwear, ethnic wear and more!
Even if you don't recognize all of the local celebrities walking down the runway, since some are familiar voices on the radio, you will recognize all of the trends from some of Edmonton's favourite retailers! This season, all of our female celebrities were dressed in great spring and summer pieces from Simons, and with cold weather and snow still lingering this weekend, it was a great way to get excited about the great fashions right around the corner. Not to be outdone, the men were dressed in some dapper looks from Derks Menswear, including some fun use of colour, some sockless looks, and a whole lot of sass.
Following up on the great energy from the celebrity showcase, we were treated to some adorable childrens' wear from Alligator Pie. What's cuter than a designer dress? A pint-sized designer dress! Other unique collections included a swimwear collection with some interesting design features, including great structural elements and tailoring. A showcase from the Eyecare Group did a fabulous job of showing some innovative and fun trends in eyewear; one audience member commented that he wished he wore glasses!
Alberta is home to a vibrant East Indian community, and every season Western Canada Fashion Week hosts several designers showing incredible traditional, and modern takes of, ethic wear. As we've come to expect, the talented designers of Anika Designs and Javeda presented stunning collections full of vibrant, saturated colours and a generous helping of sparkle.
Building on the glamour of these collections, Duanne Jahns presented an elegant couture collection. Full of sparkle, this collection presented a great range of looks with thoughtful designs to suit a multitude of ages, and seasons! Indeed, his full ballgown skirts paired with soft sweaters and muff seem like a beautiful, and logical, choice for formal events in our winter city!