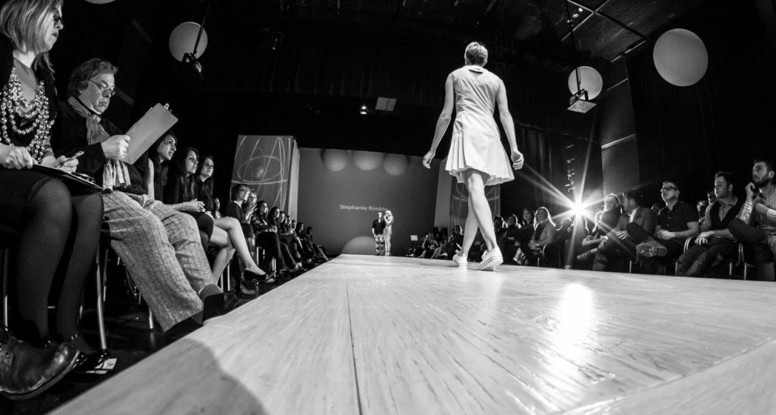 Emerging Designer Competition Judges
Photo: Kelly Rosborough
Western Canada Fashion Week's Emerging Designer Competition was created to provide a platform for new designers to enter into the world of fashion. As an in-house incubator that discovers new talent, we are committed to the development of the fashion, art and design community. We are pleased to announce the judges of this season's Emerging Designer Competition, Stanley Carroll and Lani van Rooyen. For tickets to the Emerging Designer Competition on Saturday, March 28, 2015, visit the Events + Tickets page.
Stanley Carroll launched his first collection in the spring of 1983. Since that time, he has gone on to show and market his men's and ladies collections nationally and internationally. With a loyal customer following that spans from Edmonton to New York and Amsterdam, his work continues to turn heads and achieve critical acclaim. Over the years, he has been and continues to be a great supporter of the fashion industry in Edmonton as a member of various industry associations and panelist of countless design competitions from WCFW to the Mercedes-Benz start up.
---
Owner of R O O Y Couture, designer Lani van Rooyen realized early on that her passion for beautiful gowns and the design thereof far outweighed other career choices. She went on to study fashion design in her native South Africa under the watchful eye of two established designers, where she won the awards for Best Student Design and Best Art Student in 1996. Following her studies, Lani established her first studio, designing and manufacturing a range of garments – it was during this time she discovered her ultimate passion, that of designing wedding gowns. In 2000, realizing the need to expand her business and design knowledge, Lani shifted to part-time design and embarked on a worldwide journey which lasted several years – from tailoring on cruise ships to attending business and fashion schools in London, to gaining experience in the field of hospitality. After following her husband to Canada, she established R O O Y Couture in 2009, where today she is doing what she loves best: dressing brides.