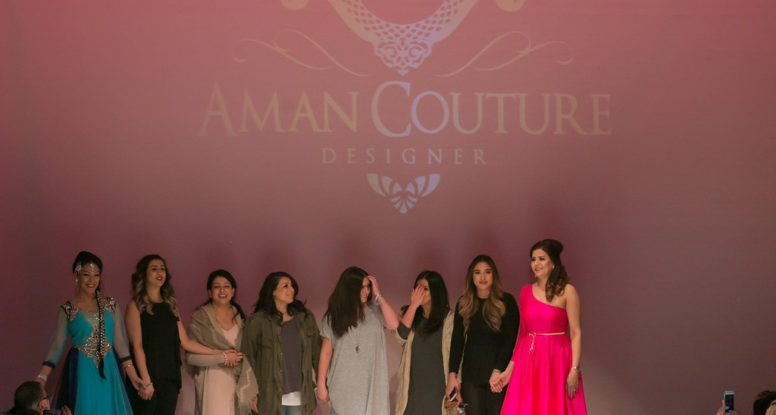 Aman Couture
Traditional Bollywood meets a fresh modern twist as Aman Gill reveals her first couture collection at this seasons WCFW.
This luxurious fusion collection features an eye catching mixture of vibrant, bright colours entwined with detailed gold accents. Pieces of bold, sparkling jewelry were also added, giving each creation the finishing touch. With each piece presenting its own unique beauty, it is clear the incredible amount of time and dedication Aman puts into each one of her designs.
Gill reveals how her inspiration for the alluring creation was brought on by other people's encouragement, as well as WCFW itself.
"People would come up to me asking 'where did you get that?' and I would tell them how I made it myself," says Gill. "I was always inspired by other designers. I used to watch the show [Western Canada Fashion Week] and say I want to do that. I want to be the next top designer."
After several people encouraged Gill to pursue her talent, Aman finally decided to present her debut to the world at the Spring 2016 show.
With WCFW providing such a strong platform for newcomers, the showcase was exactly the opportunity Gill needed to launch her designs into the fashion world with a bang.
"It's the show in Alberta." Gill adds, a statement that is agreed upon by many.
"I feel so confident in this," Reveals young model Kai-Lee Worsley, referring to the glamorous royal blue and gold ensemble she would be modeling for Aman that evening. "This is the most comfortable I've ever felt in a piece."
Worsley's referring creation is a majestic combination of three pieces. Beautiful gold embellishment ties up a sophisticated, open back royal blue top. While a full length, royal blue skirt with intricate gold detailing sits effortlessly off the hips . The look is completed with majestic, matching sheer draped elegantly over the arm, giving the entire look a true princess-like feel.
Each one of Gill's designs represents its own sense of uniqueness, while still fully capturing the desired prestigious effect.
Gill's glamorous line features both men's and women's apparel, making her creations available to virtually everyone on the market. Gill also commented on how the show itself truly gives new designers both the opportunity to get their creations recognized by the local fashion market, as well as the chance get to know the market as a whole.
"It's been a great experience," says Gill, commenting on her first involvement with WCFW." People really inspire each other. It's just a great overall feeling."
WCFW is well known for it's immense amount of support for both local and international designers. It's responsibility for the launch of many new designer's careers is only one of the many aspects that draw hundreds of designers in to participate each year. The event continues to display it's incredible support for new designers by allowing cost effective participation, ensuring designers on any end of the economical spectrum may participate.
Designers are immediately welcomed to a broad audience of around three hundred and fifty members of the local market, just in the seated audience alone. Designers receive a ten to fifteen minute segment on a New York style, 64′ x 6′ runway. It is here where their creations burst into the fashion world with the show's large quantity of professional photographers, media coverage, and local as well as international buyers.
After revealing her creations on one of the most recognizable platforms in Western Canada, it is clear Aman Gill is on well her way to exceeding her goals in today's fashion industry.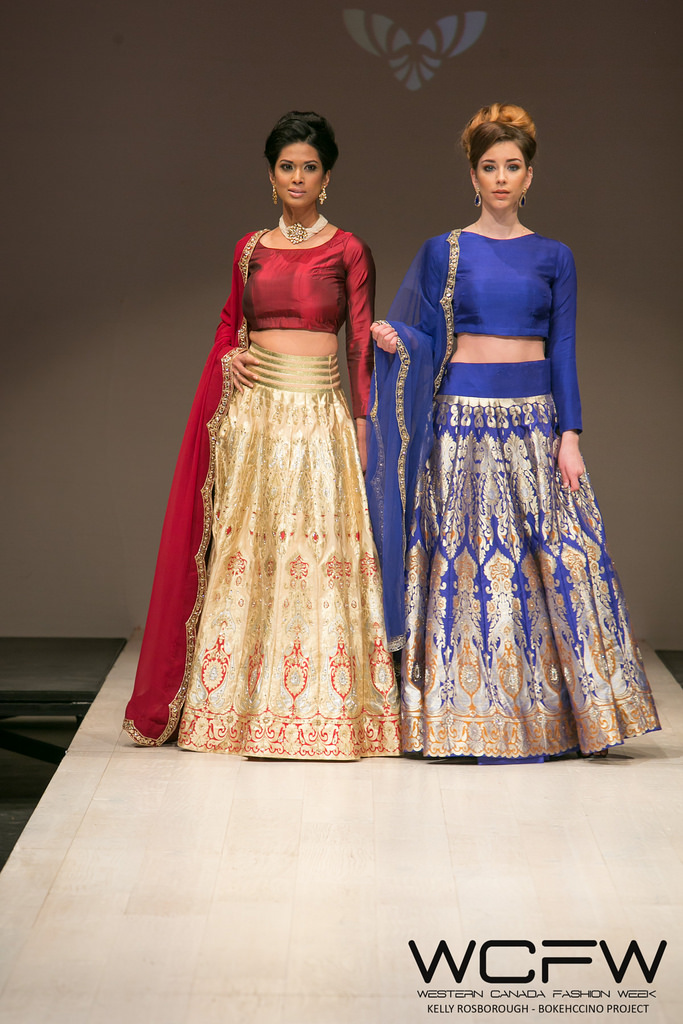 Story By: Mariann Roberts
Email: marerobs@me.com
Designer: Aman Gill
Line: Aman Couture
Models (in photo):
Benazir Thaha (left)
Kai-Lee Worsley (right)
Reposted from The Active Optimist